Delegates from University of Portsmouth visits University of Ibadan
Published on: Thu (January 2, 2020)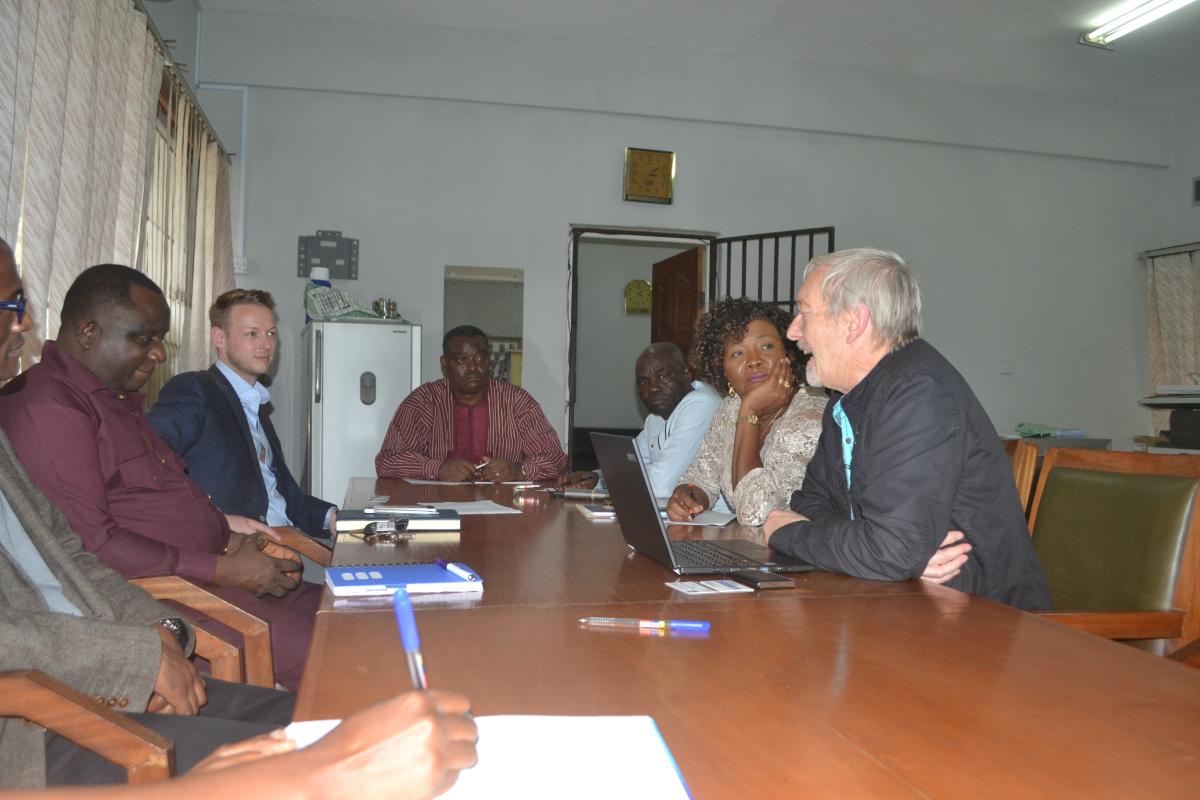 The University of Ibadan on Thursday, 20th June, 2019 received a three-man delegate from the University of Portsmouth comprising Professor Tony Chafer, Dr. Edward Stoddard and Dr. Ottis Mubaiwa. They were received at The Faculty of The Social Sciences by the Dean of the Faculty who was represented by Professor Egwosa Osaphae from the Department of Political Science. The Director of the Office of International Programmes, Professor Edith Ajaiyeoba, Professor Albert Isaac O, Professor T.A. Akanji, and Professor A.S. Jegede were all in attendance at the meeting. The meeting commenced at about 3pm.
The delegates were in Ibadan to advance the Memorandum of Understanding (MOU) between the University of Ibadan and University of Portsmouth. The visit featured, notable, discussions on how University of Ibadan can enhance collaborations with University of Portsmouth in the aspects of cyber security, criminology, faculty exchange- especially with the Institute of Peace and Strategic Studies.
 Professor Egwosa Osaphae in his contribution expressed his delight on the collaboration stating that the world is expanding on all fronts. He suggested that there is a need to review the framework of many of these changes. He further stated that several topical issues such as security and risk, conflict mobility, cyber security and cybercrime, climate change, herds men, traditional market place and many more are expected to be addressed in Nigeria and Africa  in order to enhance the civil society. He also emphasized the need within these two days the work to be done asserting that University of Portsmouth coupled with the expertise in University of Ibadan will have a very great impact. He said that grants could also be sought to facilitate their collaboration.
Professor Albert suggested that a team comprising delegates from University of Portsmouth and University of Ibadan should be created to identify problems relating to Criminology. The team is to be led by Professor Egwosa Osaphae under the supervision of the Director, Office of International Programmes, Professor Edith Ajaiyeoba. He further gave a brief history of the Institute of Peace and Strategic Studies (IPSS) as well as The Program on Ethnic Federal Studies (PEFS).
Professor A.S.  Jegede expressed his pleasure in the collaboration which he said was timely as the Faculty of The Social Sciences is proposing on having additional departments. While praising the timeliness of the collaboration since the University of Ibadan is embarking on an anticorruption project, he stated that the collaboration will have vast impact on current security issues in the country.
Professor T.A. Akanji also expressed his delight in the collaboration stating that it is an additional platform of networking on contemporary security issues. He gave a brief overview of existing collaboration of the Institute of Peace and Strategic Studies (IPSS) with other partners. He stated that since the issue of terrorism is a global issue, the dimensions also vary globally. Therefore exchange of ideas between the two universities will proffer solutions to a number of challenges.
Upload image: