International Centre for Development Oriented Research in Agriculture (ICRA) Explores Collaboration with UI
Published on: Saturday (May 5, 2018)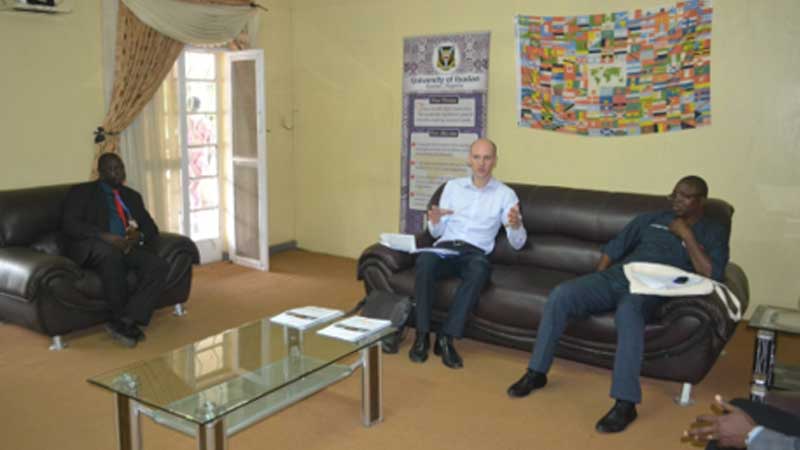 Gieljan Beijen, a representative of the International Centre for Development Oriented Research in Agriculture (ICRA), Netherlands, and Dr Gbenga Idowu, Nigeria representative of ICRA visited the Office of International Programmes (OIP), University of Ibadan on 23 April, 2018. The purpose of the visit was to follow up on the initial discussion with Mariette Gross, another representative of ICRA, who visited OIP earlier on 21 November 2017 for preliminary discussion on the possibility of collaboration between Faculties of Agriculture and Renewable Natural Resources, UI, in training and learning in agriculture and agro based business. An objective of the proposed training is to institutionalise competency-based training in ways that will enhance the employability of graduates from UI.
The duo was received by the Director, Office of International Programmes, Professor A.B. Ekanola and Principal Executive Officer, OIP, Mrs Mobolaji Bankole. Also present at the discussion were Professsor B.O Omitoyin, the Dean of Faculty of Renewable Natural Resources and Dr Adeola Olajide, a Senior Lecturer from the Department of Agricultural Economics.
The ICRA team provided information on the objectives of ICRA which include: bridging the gap between research institutes and end users of research output, disseminate high level theoretical knowledge generated in institutes, develop programmes for individuals and institutions to achieve more with knowledge gathered, get people to be more involved in agro business programmes that will facilitate a vibrant network of business relationship throughout the agro business value chain.
Professor Omitoyin, Dean of Faculty of Renewable Natural Resources unequivocally stated that the presence of ICRA representatives in UI was at the right time. He affirmed that ICRA's objectives are consistent with the on-going re-orientation of students that of faculties of Agriculture and Renewable Natural Resources. It is aimed at inculcating entrepreneurship content in the training programme for students at every level. This re-orientation, according to Prof. Omitoyin is already showing positive results with the industry coming back to recruit students. Dr Olajide suggested the formation of business clusters in UI, establishment of train the trainers programme that would be practice-oriented and link industry with research as viable ways to initiate the collaboration between ICRA and UI.
 
Having established the mutual interest of both UI and ICRA, Professor Ekanola suggested that both parties proceed to work out details of how they will collaborate in the form of a proposal that will constitute the basis for a Memorandum of Understanding. The meeting ended with the resolution that a proposal be developed by both parties that will specify the objectives, modalities and terms of relationship between UI and ICRA. The Director affirmed the commitment of OIP to provide necessary assistance to facilitate the realisation of the proposed collaboration.